Tonight hasn't been the greatest night in the history of MSU athletics.  Earlier in the evening the basketball Bulldogs found themselves down 24-4 to LSU in a game that would end in their eighth straight loss.  After that, the top ten MSU baseball team dropped a home game to Memphis 6-4 that they had in hand, but let slip away due to unforced errors.  Even though neither of these is a major blow, it would still be nice to have some good news for the MSU faithful and wait what's tha...
/music starts
SNOOOOOOOOOOOOOOOOOOOOOOOOOOOOOOOOOOOOOOOOOOOOOOOO-OOP!
That's right.  Snoop is back in Starkville tonight, playing a show at Rick's Cafe.  Mr. Dogg/Lion was in Jackson last evening and played a show at Hal & Mal's, and tonight he's made his way up 25 (we can assume riding the back of puff the magic dragon) to play in Starkville.  And as he did last time, it looks like Snoop is sporting some Maroon and White: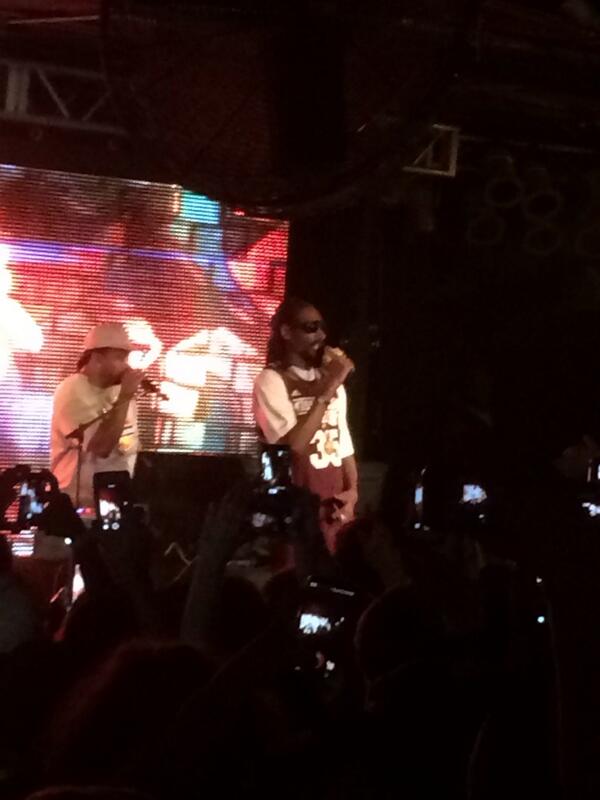 (via @ClintOdom7)
Thankfully this time he isn't sporting that awful Russell wear.
No word yet from concertgoers on whether or not Snoop worked in my sick Davis Wade rhymes into his freestyle portion of the set.  Also, please beware of the unexplained dense fog that has rolled into Starkville if you're out driving tonight, and we wouldn't worry to much if you wind up at Taco Bell even though you weren't hungry earlier.
[UPDATE] - Apparently MSU DBs coach Deshea Townsend attended last night's Snoop-a-loop concert, and got a picture with him on what appears to be Snoop's tour bus after the show.
@desheatownsend Hanging out with @snoopdogg last night. #HailState pic.twitter.com/1yH5J9F7t1

— MSU FB Recruiting (@HailStateCommit) February 20, 2014
I don't know how it fits, but I hope we use this as a recruiting tool.  Come play for coach Townsend, he's tight with Snoop!