About 20 minutes after yesterday's first pitch between Mississippi State and Virginia, State fans who use Twitter got a bit of a surprise when a promo mock up of new MSU baseball uniforms for the post season showed up via Darren Rovell, Adidas' account, and various others. Although many were just flat confused as to the timing of the release, even more fans were turned off by the retro-looking uniforms that Adidas had unveiled for the Bulldogs.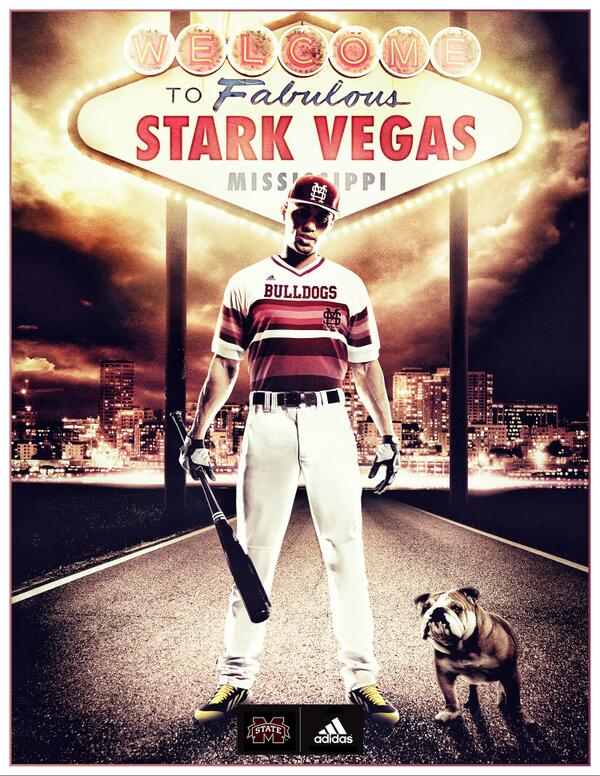 Like many State fans, I was first and foremost pretty mad about the timing of the release, and the context that went along with it. The first I saw of the unis was from Darren Rovell, who added that they were for MSU for the College World Series.
UMMM, hold up there, Adidas. We haven't made any College World Series yet. As a matter of fact, I'm pretty sure we were down 3-2 at the time, so as a superstitious fan, I was furious. There went our chance at Omaha.
However, my feelings about the jerseys release cooled a bit later in the day, when I saw that NC State had actually debuted their special Adidas uniforms on Saturday. Now I'm thinking that Rovell just meant that these new uniforms were for the postseason, which some people call the CWS the whole time? Maybe. Or, it could just be Rovell being Rovell.
So, the next question on my mind was: what did I think of them? Taking an unpopular stance here, I love the unis. Although I'm not a huge fan of some of the others released in the line from Adidas (Louisville's pants, yuck), I like State's. Although the uniforms are an unapologetic rip off of the 1970s Houston Astros uniforms, I DIG THEM, so sue me. The retro striping looks great with the interlocking MS baseball logo, although I would have dropped the "Bulldogs" across the chest if it were up to me. So bring the complaints, State fans, because I dig them.
So, might we see these uniforms this weekend? It seems that is a strong possibility. With NC State donning theirs yesterday (they won in a comeback in them, so let's squash the jinx talk here folks), it seems more and more likely that State would be wearing theirs this weekend as well, and not in a College World Series that we still have yet to earn a berth to.
Oh yeah, but we could do that today. Any maybe while wearing the 'stros unis. That would do some serious damage to the argument of those who are against the black/snowbowl/allalternate uniforms.
I guess we will see.