As a part of game week festivities, Mississippi State today released the depth chart for the season opener versus Southern Miss.  There weren't any big surprises to report as the Bulldogs return a lot of starters from 2013.  One position of note was right tackle, where the Bulldogs still haven't named a starter to replace Charles Siddoway from last season.  RT Damien Robinson went down with a torn ACL in preseason camp, leaving Justin Senior and former TE Rufus Warren to duke it out for the starting spot.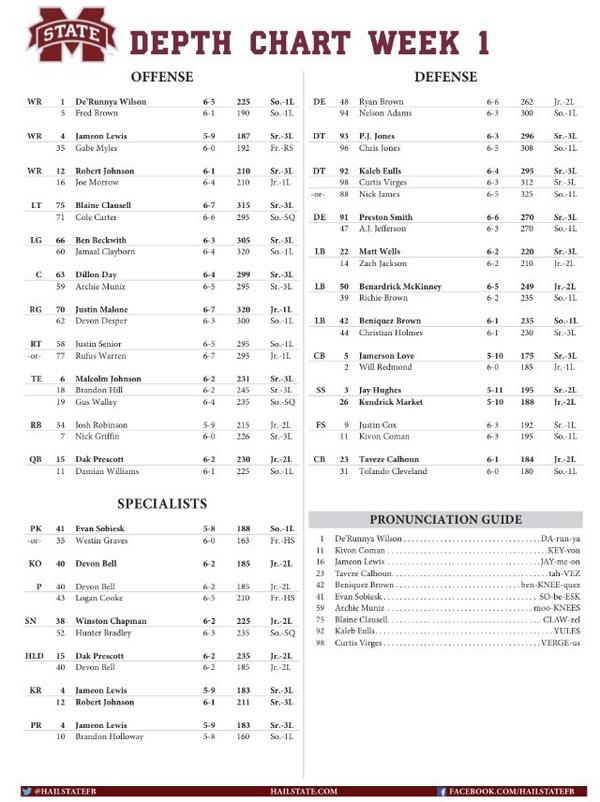 via Bob Carskadon
Coach Mullen took time in today's press conference to address the position, which is a priority for the Bulldogs going into the first weekend:
"They're battling it out. We're going to let all that go this week and continue to do it. You have to be prepared for all different scenarios now. That's a definite that Damien is going to be out, so now what we have to do is prepare for all the different scenarios that possibly could hit us and prepare both Justin and Rufus at that position, but also the guys that are cross-over positions now. We were starting to feel good about being able to have a two-deep, a backup at every position. Now you're going get into having to jumble everybody around at any time with another injury."
Another position that may catch people's eye is defensive line where pre-season All-American Chris Jones is not listed as a starter.  That is mostly a technicality, though, as the ultra-talented sophomore will see plenty of time early and often on Saturday night.
Finally, there's the place kicker position where sophomore Evan Sobiesk and freshman Westin Graves will battle it out to handle kicking duties for State this season.  Given MSU's struggles with the kicking game in 2013, that will certainly be a battle to watch as MSU wades through the non-conference portion of the season in preparation for conference play starting against LSU in week four.