After waiting what has seemed like forever, football is finally back, and for Mississippi State fans, that wait officially ends this afternoon at 2:30 CT as MSU takes on Oklahoma State in the 2013 Texas Kickoff Classic in Houston. Although there have been mixed reviews about MSU's decision to play in the game since it was announced last fall, there's no denying that a win today would put MSU in a good place confidence wise in facing the rest of the front half of their schedule.
Oklahoma State comes in confident, returning a lot of weapons from an offense that has been highly proficient ever since the Mike Gundy era started. That isn't expected to change much this year, and it's up to MSU to try and stop that aerial and ground attack today if the Bulldogs are to have a chance. State returns some weapons of its own, however, as Tyler Russell, a full stable of running backs, and the entire offensive line from 2012 return to give a strong nucleus for the offense to operate around. Today's game could very well be a shootout, and it could wind up being a measure of whose offense has just more than the other to come out with a win.
Before kickoff, make sure you get caught up on the Cowboys from Stillwater with our Big Preview, which includes some good information on the Pokes from our friends at Cowboys Ride for Free. You can also check out more coverage for today's game at our storystream.
Broadcast Schedule:
Game Time: 2:30 P.M. CT
Location: Reliant Stadium, Houston, Texas
TV: ABC/ESPN2
Announcers: Bob Wischusen, Rod Gilmore & Quint Kessenich
All week it had been a bit confusing as to what channel the game would be on today: ESPN2, or ABC? Fortunately, ESPN released the handy map seen below to show us where the game would be on ESPN2, and where it would be on ABC. Since State is splitting views with Syracuse-Penn St. at the 2:30 time slot, that map makes sense. If you live near the border of the two colors though... well good luck figuring out which you'll get.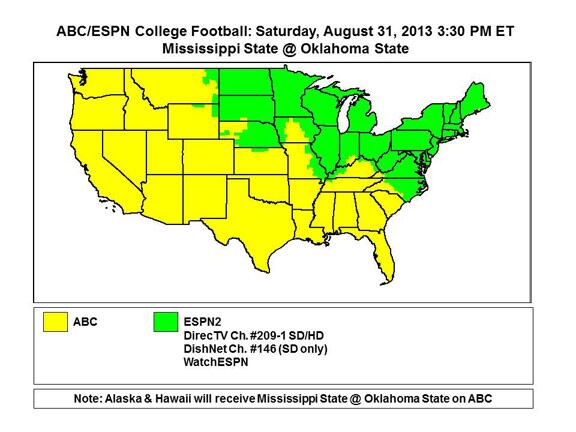 Live Online Stream: As you can see, WatchESPN streaming of the game will only be available for those in the northern part of the US that will get the game on ESPN2. So, that means no streaming options for the majority of us who live in the south. To our buddy Ukrainedog who lives in, well, Ukraine, I apologize, I know this map doesn't help you at all.
Replay: There may be one before it, but the first replay that I could find of State's game is set to air on ESPNU at 2 A.M. Labor Day morning.
Radio: As always, here are your radio options for today's game.
The noon(ish) games
| | | |
| --- | --- | --- |
| Matchup | Location | Channel |
| Buffalo vs. (2) Ohio State [11 a.m. kick] | Columbus, OH | ESPN2 |
| Massachusetts at (23) Wisconsin [11 a.m. kick] | Madison, WI | Big Ten Network |
| Toledo vs. (12) Florida [11:21 a.m. kick] | Gainesville, FL | ESPN3 |
| Rice vs. (7) Texas A&M [12 p.m. kick] | College Station, TX | ESPN |
What else is on at 2:30
| | | |
| --- | --- | --- |
| Matchup | Location | Channel |
| Temple vs. (14) Notre Dame | South Bend, IN | NBC |
| Central Michigan vs. (17) Michigan | Ann Arbor, MI | Big Ten Network |
| Syracuse vs. Penn State | State College, PA | ESPN2/ABC |
Other games of note today
| | | |
| --- | --- | --- |
| Matchup | Location | Channel |
| (1) Alabama vs. Virginia Tech [4:30 p.m. kick] | Atlanta, GA | ESPN |
| (5) Georgia vs. (8) Clemson [7 p.m. kick] | Clemson, SC | ABC |
| (12) LSU vs. (20) TCU [8 p.m. kick] | Dallas, TX | ESPN |
| (19) Boise State vs. Washington [9 p.m. kick] | Seattle, WA | Fox Sports 1 |
More from For Whom the Cowbell Tolls: