MY ROAD TO OMAHA...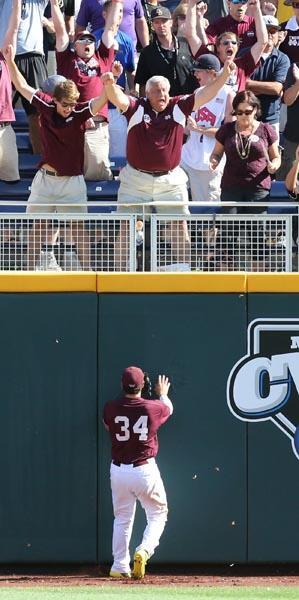 It started in 1970 when I was a twelve year old who loved playing baseball more than anything, so much so that I would get teased by my brother (one year older, but in years the league covered two years of age groups we played on the same team) when I would choose to stay home to play a summer league baseball game, rather than go on the annual trips to Biloxi (for either the Veterinarian Convention or Municipal Convention). Our Dad was the local veterinarian in Starkville where he was born, and also served on Starkville's Board of Alderman for sixteen years. I was always eager to read the Starkville Daily News to see if my name was in the paper for getting hits and for our team winning. In fact, one year when I stayed home to play and my brother on the same team chose to go to Biloxi, I got the game winning hit, but to my surprise, my brother was written up as getting the game winning hit! He wasn't even in town! Much less did he have the passion I did for baseball (though in truth, he was a better player).
Born and reared in Starkville, I intently followed Mississippi State Baseball and couldn't wait for a radio broadcast to come on and live each pitch with the baseball team. When they were out of town or I couldn't make it to Dudy Noble, just a couple of miles from the house, Coaches D'Armi and Gregory had elevated the team to national prominence, and I begged Mom to take me to Gastonia NC to cheer my Bulldogs. It was such a heart breaker to lose two ball games by one run and not make it to some place called Omaha, but I knew I wanted to be with my Bulldogs. In 1971, Mom promised me that if my Bulldogs made it to Omaha again, that we would go. I remember greeting the team, my cowbell in hand, as they exited the team bus, returning this time victorious from their Gastonia Regional play. It was such a treat that I had never known the privileges of growing up in Starkville and being able to follow Miss State sports. I thought everyone had the same experiences. I never even knew you could choose a college to attend. I just thought everyone went to a kindergarten, elementary school, junior high, high school and then university right where they lived!
I had no idea what it would take for my Mom to drive me to Omaha. I just knew we would get to go cheer for my Dawgs, but I do remember we looked at the game days and times State would play and how long it would take to get there. Packed and ready to go, we had decided with the double elimination style play that if we won either of the first or second games, we could start the trip and we could get there to watch at least one game. To my depressed disappointment, the team was unable to pull out that one win and we didn't make the trip.
Poor Mom, I think she hurt more than I. She saw her baby boy sink to his mental lows, as he did with any Miss State sporting loss, and that continues to this day. I think being born in Starkville and growing up there, I must have gotten some shot as soon as I exited my mother's womb, it must have been a "Bulldog Mania Injection," because I have this deep seeded desire to be with my Bulldogs wherever they go, and family members can testify to my mood swings for the past fifty-five years.
Countless seasons passed when I would remind Mom that she promised she would take me to Omaha the next time my Bulldogs went, and we wouldn't wait for the first win. Graduating from Mississippi State in May 1979, and starting my professional career on June 4, it was not the right timing to take time off to attend the 2nd CWS appearance. Wedding and honeymoon plans for September 1981 were the highlight of my life, and when the 3rd CWS came along, there was no vacation time remaining to commit to an Omaha trip. The other five opportunities all had their holdbacks from making the trip with different employment obligations and responsibilities.
We almost lost Mom a couple months ago when the doctor indicated she would likely not leave the hospital this time after years of pneumonia occurrences and various ills that plagued the most wonderful and loving Mom a kid (or adult) could ask for. Mom committed her life to serving our Creator and Savior Jesus Christ. She was an amazing woman that served in the U.S. Marine Corps, keeping four children in line, all learning by her example and covered by her prayers. Mom heard from God more than anyone I know because she stayed in His Word. Just take a look at her Bible and you can see the size appears to have doubled from all the turning, marking and digesting God's Word into her very own being. She not only studied His Word, but she put it into practice when she heard a calling to join up with YWAM (Youth With a Mission) later in life, and traveled the world, even attending several Olympics to share God, Jesus and what the Bible has to say to us as we travel this temporary earth, and head to an eternal life to come.
After a month in the hospital, Mom, the stubborn Marine, proved to the doctor that he didn't know her and her will to prove him wrong, as well as me, as I had released her to go be with our Creator and Lord of her life.
Not until my daughter told me she would be mad at me if I didn't go to Omaha this year and that I had to go, did I realize that maybe Mom was also holding on to know that one commitment she made forty-two years ago was fulfilled, and to see that her baby boy got to go to Omaha. My wonderful wife of almost thirty-two years agreed to make the trip with me since Mom is now physically incapable. But, Lord willing, we will celebrate Mom's 90th birthday this June 30th.
A two hour delay leaving Jackson would normally have me upset and uptight, as it would cause us to miss our connection in Chicago, but I was more calm and at ease than normal, as we thought we would at least catch a flight Saturday morning to get to the opening game of the 2013 CWS. Arriving in Chicago, we found a flight available that would get us to Lincoln (fifty miles from Omaha) only three hours later than originally planned, and to our delight, we were able to witness a beautiful light display across the skies from the storm passing through as we flew from Chicago to Lincoln. The delay allowed us to drive from Lincoln to Omaha right behind the storm, free from any bad weather that would have been encountered with my original plans.
Having purchased a general admission ticket book by phone, we arrived at the box office at noon to pick them up. There were no upgrades to reserved seating as I had hoped we might find, as the game turned out to be a sellout of some 24,400+. As we hurried to get back to the other side of the stadium where the general admission unreserved and non-guaranteed seating line had already formed, we saw that as we were on our way to the box office, the line now stretched down the street even further. We were guided almost half way around the stadium before being led up steps to enter a gate to the stadium. We were on the left field side, and my heart was telling me to sit behind Hunter Renfroe in right field. Plus the Bulldogs were the visiting team in the first base dugout and I wanted to be as close as possible. My wife thought I was crazy to make us venture a fast paced walk all the way around the outfield general admission seating to get to the other side. As I peered for front row seats, they appeared to all be taken, but I decided to just go for it down the last aisle before the Bulldog bullpen in right field. Approaching the bottom row, I saw what looked like one available seat and I asked the gentlemen (three men from the area; a Rice fan, a TX A&M fan and a CWS fan) if there was room for just two. They, along with the MSU students sitting on the other side of the open area, were kind enough to allow us sitting between them.
The game was exciting but as well as nerve racking for me who lives and dies with almost every pitch. My wife who is always cool, calm and collected asked me at the start of the 8th inning if I was nervous and my response was, "How could you tell?" Wes Rea blessed us with another Miss State style two out rally charm and a 2 RBI double to go back ahead. I was using just about every superstitious sitting, leaning movement that I could think of without going noticed by my wife, as she laughs at us baseball-diehard-knows-it-makes-a-difference types!
With two outs and Beavers on first and second in the bottom of the ninth, I was more nervous than a long tailed cat in a room full of rocking chairs. Believe it or not, just a couple of pitches before the last of the game, I was thinking "Ok, I need to be ready to yell at Hunter that he has room so he won't be afraid of crashing into the wall..." I don't care what you say or think but that thought absolutely 100% came to my mind! I had already rehearsed in my mind "You got room.....you got room!" It was just a natural thought from playing baseball and growing up watching my Dawgs play. To my surprise on that last pitch I heard the crack of the bat, looked up and didn't see it at first. When I saw the ball coming right at me, the first response in my mind was, "I got it, I got it," and started preparing my hands to catch it. Then the next sick feeling was, "NO, I don't want to catch it because then we lose the game!" It seemed like an eternity that the ball was flying right straight at me, as I didn't want to catch the ball or even be around the HR ball that gave the win to the Beavers. I was getting that depressed feeling, so I decided to blow and blow as hard as I could (ok, I'll admit the blowing is a made up part). I never even saw Hunter make his break for the ball or his run to catch it. As a baseballer, I was intently set on the ball and the thought of catching it or what can I do to not catch it so it won't be a HR....can I knock it back into the field of play, what can I do, what can I do... Then it was as if the ball just stopped and dropped out of sight, and I heard that wonderful sound a defensive baseball player loves as the ball hits the leather. I didn't even know Hunter was right below me to make the catch!
The next moment is history as captured by a photographer as I, along with others, lifted our arms high in excitement of the Win, and you can notice my wife, the cool, calm and collected woman that is just looking at Hunter, thinking that was a nice catch..... No matter where we go from here, Mom your Baby Boy made it to Omaha, and somehow I believe you had a hand and a prayer in my enjoyment and the memory being captured forever!